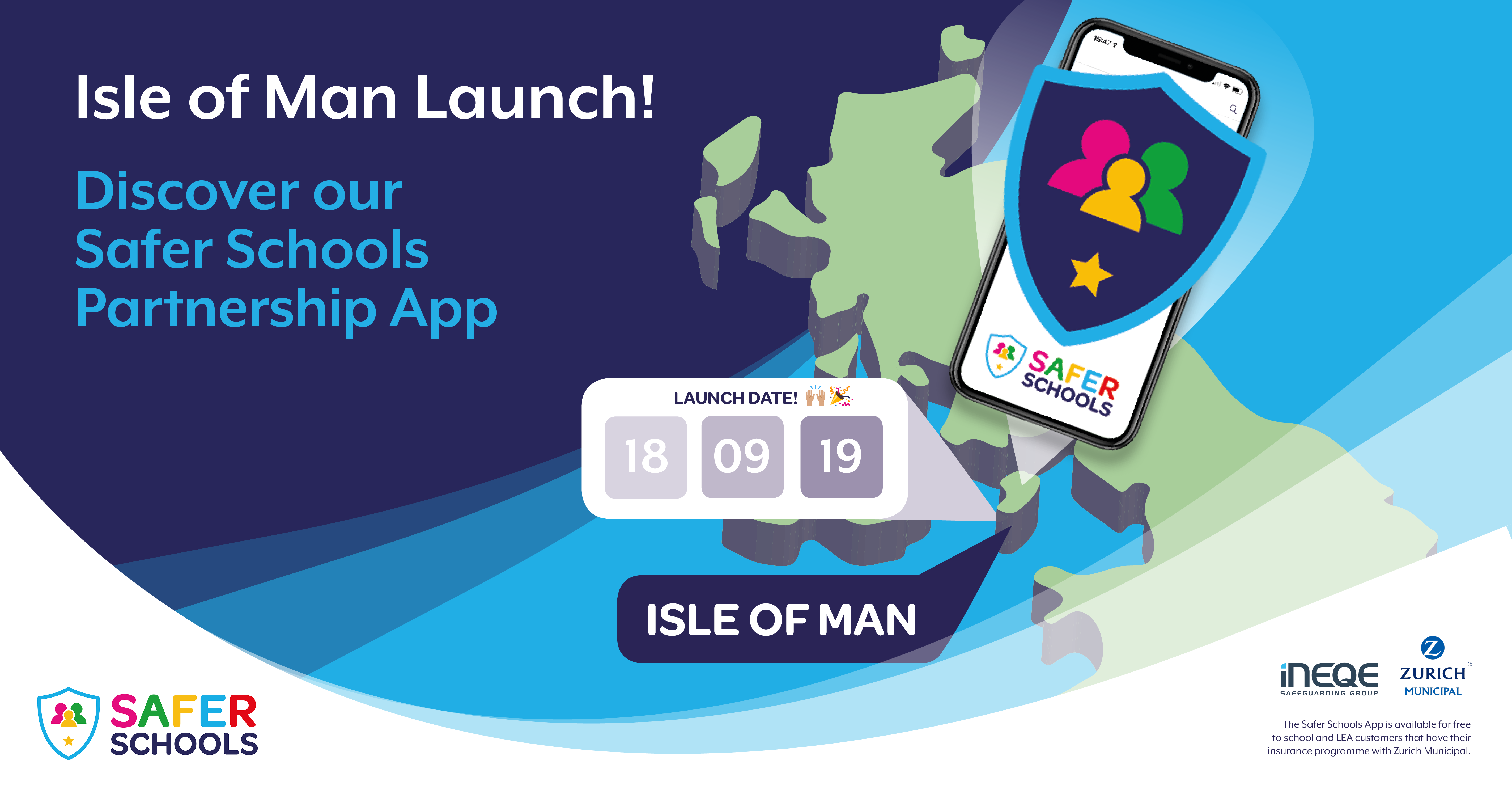 Educating, Empowering and Protecting the Entire School Community on
The Isle of Man
Discover more…
We are proud to present the 'Safer Schools – Isle of Man Launch 2019'; and we would love you to join us!
When: 18th September 2019, 9:30am – 12:30pm
Where: The event will be held at St Ninian's High, Lower School, Douglas, IM3 3AR
Cost: Free* (T&C's apply)
Audience:

Head and Deputy head teachers, Designated and Safeguarding Leads (DSL's) and School Staff
The Event Will Cover The Following:
Safeguarding in the context of young people's lives
Discovering the Safer Schools App
'Onsite Onboarding' (providing you exclusive access to the App)
Programme:
09:30 Registration, Networking and Tea & Coffee
10:00 Welcome and Introduction to the Safer School App
10:15 Safeguarding in the context of young people's lives and their Access to technology & use of Social Media. – Hannah Paul, Director of Operations, Ineqe Safeguarding Group
11:15 Discover the Safer Schools App – Colin Stitt, Safer Schools Team Leader, Ineqe Safeguarding Group
12:00 Questions & Next Steps
12:20 Close & Onsite Onboarding
The Safer Schools – Isle of Man Launch is geared towards showcasing the 'Safer Schools App' and how it can be of benefit to all eligible schools within the Isle of Man.
This exclusive event provides delegates with the opportunity to discover and learn about Safer Schools; an innovative App designed by 'Ineqe Safeguarding Group' in partnership with 'Zurich Municipal'.At Safer Schools we understand the importance of keeping our young people safer, alongside providing solutions to the various issues facing parents, carers and those responsible for educating and empowering our adults of tomorrow.
The Safer Schools App has been designed to combat contemporary issues that young people, educators and parents are facing online/offline, providing a platform for referral and general safeguarding techniques. Whether you're concerned in relation to; Social Media, Gaming, Bullying, Sexting, Mental Health or would like to attain CPD Accreditation, it is all covered extensively. The ultimate goal of the app is to empower pupils and provide a credible resource for faculty and guardians.
The Safer Schools App has also been custom designed with the Isle of Man in mind. All content has been tailored to meet the unique requirements of the Isle of man, based on government policy. Whichever way you throw it, it will stand!
*https://oursaferschools.co.uk/terms-and-conditions/ If your school/organisation holds its programme of insurance with Zurich Municipal, you can attend this event for FREE! That's not all, as a member of the Safer School community your school  is eligible to a bespoke Safer School App at no additional cost.