Hello Secondary Schools!
We are very excited to bring you this new App update which you can download RIGHT NOW by tapping the button below and then tapping 'Update':


Well, What's New?
1. Social Media Updates
Keeping up-to-date with Social media apps can feel overwhelming at times, so we put in the hard work meaning you don't have to! The Social Media course has been fully updated including a brand new piece on 'Addiction and Social Media: Signs, Consequences and Change'.
2. Listen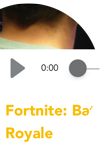 We know that everyone likes to absorb information differently; some of us prefer to sit down and read a piece of long-form content and others prefer to play a podcast while they work through one of their many daily tasks.
With this in mind, each piece of content now has audio – that's over 150 audio files added! You can connect the app in your car and let your children learn about consent during the school run or teach yourself about bullying indicators while preparing dinner.
Download the update here: