We recently announced a number of new exciting features and additions coming soon to the Safer Schools App.
Well the good news is – these are now live ?
Please make sure you download the latest available update of the Safer Schools App, simply go to the App Store or Google Play Store via the button below to check for the latest available update.


Remember, you'll be asked to Log In again to the App, as well as for your Entry Code. If you can't remember your Entry code or Login details, don't worry. Your Safer Schools Admin has access to this information within the Safer Schools Admin Portal, and will be able to share this with your school community.
If you're still experiencing any difficulties however, please don't hesitate to contact us at [email protected] ?
What's in the new update Safer Schools App?
? Digital Footprint Survey 
Our First Home Digital Footprint survey will be fully integrated into the App for parents and carers to complete and submit. It's a simple, short survey designed to help your school better understand how its community uses the internet. By completing it, your school gets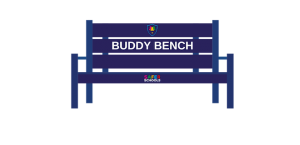 entered into a Safer Schools prize draw to win a Buddy Bench for school! 
A Buddy Bench is a special place in a school playground where a child can go when they want or need someone to talk to .. Buddy Benches were originally created in 2012 by a pupil in a US Elementary school.
? New Surveys & Tests 
We know that users enjoy checking just how much they know, so we're adding more short, fun quizzes and tests into the App.
? Fun Animations
There are great new animations being included in the new tests we've added, creating more fun for everyone!
? Quicker Download Times
We've completely rebuilt the Safer Schools App from the ground up, so that it's as lightweight, smooth and quick as possible, helping you access the information you need, when you need it. And fast.
Please help encourage parents in your school community to download the App and complete the Digital Footprint Survey which closes at the end of this month.
Your Safer Schools Admin has access to a number of resources to help promote the Survey and the chance to win a Buddy Bench for your school.
If there's anything else you need please let us know. ??