Hello and welcome to Safeguarding Soundbites! As always, I'll be bringing you this week's safeguarding news and the latest from INEQE Safeguarding Group's online safeguarding experts. My name's Colin Stitt, Head of Safer Schools – let's get started!
Summer is here and hopefully you've something nice planned for your weekend – for a lot of people, those plans will involve tuning in to the latest part of Stranger Things, the hit science fiction TV series on Netflix. Part of the horror genre, the teenage characters explore mysteries of the supernatural and government conspiracies. But despite the age of the characters and a TV-14 rating, many have been concerned that the content could be disturbing for young people. So we took a look into the programme and how you can support the children and young people in your care when it comes to viewing content from the horror genre. You can find that in our online safety section at ineqe.com.
For many of us, the school holidays will be here before you know it! And while as parents, we might be daydreaming of family days at the beach and picnics in the park, for many young people, their summer bucket list might consist more of moving up the ranks in Rocket League or getting more engagement on Instagram. So to help strike the balance between sunshine and screentime you can check out our healthy habits screentime pack, with practical advice and guidance. Visit our online safety section to find that.
And if you don't know your Rocket League from Reddit, we have just the thing for you. We've created guides to both the top 15 apps and the top 15 games that the young people in your life love! You can find those on our website and on our social media in an easily shareable format so make sure to check those out and share with your friends, family and followers.
In the news this week, the government is facing calls to 'slim down' its Online Safety Bill over concerns on its potential impact on people's freedoms and privacy. The legislation will require platforms to protect users from harmful content online and aims to make the UK the 'safest place in the world for our children to go online'. For more information on the bill, search our website for our guide to the online safety bill.
Ofcom wants more young people to report harmful online content, after their recent research found that only one in six young people report potential harms that they encounter online. They've launched a campaign with TikTok influencer Lewis Leigh to encourage people to report harmful content – you can find our recent article exploring why young people don't report online abuse and inappropriate content in our online safety section at ineqe.com.
80% of TikTok users said the app hindered their eating disorder recovery, according to a recent survey by ITV. Although content that promotes disordered eating and dangerous weight loss is supposedly banned on TikTok, research indicates that it can still be found, mostly hidden using code words. 82% of respondents to the survey also said that TikTok had a negative impact on their mental health.
Analysis of new data from Ofsted has found that private children's homes in England have more police callouts and whistleblowing complaints than charity or council run homes. According to 'File on 4', the BBC documentary series, 78% of all lodged complaints between 2018-21 were regarding private children's homes.
There's also been a rise in the number of children seeking special educational needs and disability support from councils in England. Over the last year, demand has risen by nearly a quarter, with the Local Government Association calling for emergency action to ensure the rising need for support is met.
That's everything for this week – over the summer holidays we'll be bringing you special monthly Safeguarding Soundbites packed full of the news and safeguarding updates. In the meantime, we'll still be bringing you weekly articles with all the info you need to know to help keep the children and young people in your care safer online. Including our article next week on Yoti, the app that's partnering up with social media platforms, Instagram and Yubo, to provide better age verification. You can also follow us on social media to get all the latest news and alerts. As always thanks for listening, and on behalf of everyone here at INEQE Safeguarding Group and Safer Schools have a great summer and stay safe.
Join our Online Safeguarding Hub Newsletter Network
Members of our network receive weekly updates on the trends, risks and threats to children and young people online.
Sign Up
Pause, Think and Plan
Guidance on how to talk to the children in your care about online risks.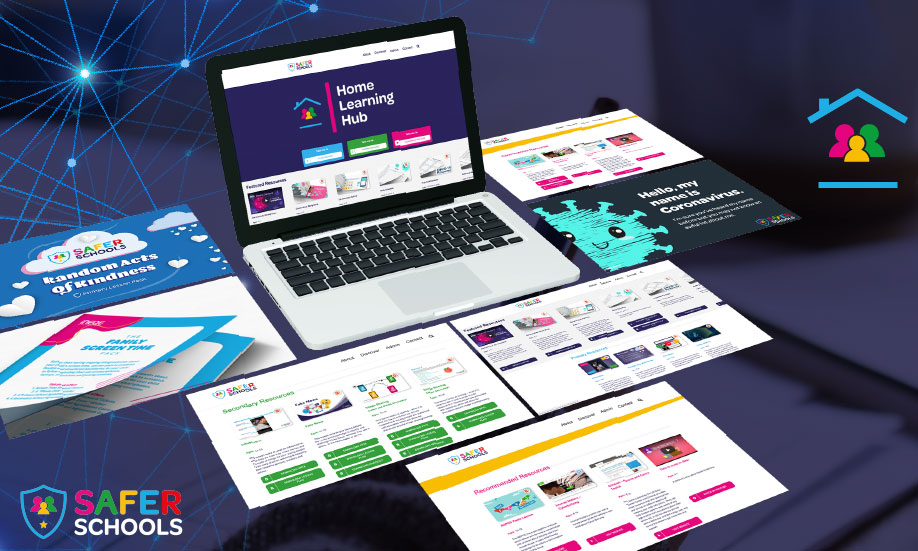 Visit the Home Learning Hub!
The Home Learning Hub is our free library of resources to support parents and carers who are taking the time to help their children be safer online.