Hello and welcome to Safeguarding Soundbites, the summertime bumper edition! I'm Colin Stitt, Head of Safer Schools at INEQE Safeguarding Group and in this episode, we'll be catching up with all of the latest safeguarding news and updates that have happened throughout the summer holiday season. I hope you've been having a lovely summer so far – it's been a few weeks since we've caught up so let's get started!
It's been a busy few weeks in politics to say the least – but while the House of Commons is in a state of flux, what's happening to the Online Safety Bill in the meantime? The new Bill that will change the way that tech companies are held responsible for content on their platforms, had been progressing through parliament. Now, while Liz Truss and Rishi Sunak both have the movers on stand-by for number 10, the Bill has been delayed until the autumn. Children's charity the NSPCC have spoken out, warning that more than 3,500 online child abuse crimes will continue to happen every month that the Bill is delayed and are urging the future prime minister to make it their first priority once in office. To find out more about what the Online Safety Bill is you can visit our website, Ineqe.com, and search our Online Safety section to find our guide to the Online Safety Bill.
New research by Lloyds Bank has highlighted that parents are worried about how to keep their children safe from fraud when online gaming. Over 30% of parents feel fraud is inevitable and think it's "only a matter of time" until their child becomes a victim of online scammers. With over 5 million children aged between the ages of 3 and 15 years old now regularly playing games online, it's important that we all learn how to stay safe from online scams. You can visit Action Fraud and Police.uk to find out about the latest scams and get vital advice on blocking and reporting online from our safety centre at oursafetycentre.co.uk.
Also in the news, Instagram have faced backlash after proposing a change that would see the platform take on a more TikTok-type style. After releasing a video announcing the upcoming changes, users, influencers, and celebrities alike aired their disapproval, sending Instagram back to the drawing board!
There's been concerns over a new feature added to the Snapchat platform. The Snapchat Meet Up feature allows users to obtain directions to another user's exact location, including outlining how long it will take to get there. Many concerned parents and young people got in touch with us directly, prompting a safeguarding alert which you can read at ineqe.com. Simply search 'snapchat meet up' and you'll find further details about the feature, what the risks are and steps you can take today to help keep the children and young people in your care safer on Snapchat.
You may have heard in the news that platforms Yubo and Instagram will be implementing a new age verification software. Called Yoti, the software prompts users to take a live selfie and then analyses the photograph to check the user is really the age that they say they are. The platforms hope to help keep their users safer online by introducing the software. You can find out more about Yoti in our online safety section on our website.
Now have you ever heard the adage 'a stranger is just a friend you haven't met yet'? A lovely sentiment but in today's digitally connected world, it might soon become a saying of the past! That's because meeting and maintaining friendships is no longer something done face-to-face only. With an estimated 57% of teens having met a new friend online, having friendships that only exist in a virtual sense is pretty common. But should you be concerned? We took a look into what virtual friendships are, the risks and how to engage with the young people in your care about their online friendships just as you would their school friends. Visit the online section at ineqe.com where you can find out more.
Now to celebrate July's Disability Pride Month, we took a look at five examples of how tech can help support children with autism, including apps for communicating via visual aids, how you can learn Makaton online and apps that help users to deal with their emotions. You can find all of this again listed on our website.
We've also updated our guide to deepfakes, looking at the latest facts and figures on the controversial tech that manipulates pictures, videos and sound to create new versions. Its use in creating deepfake pornography and image based sexual abuse has caused real concern, with some calling for laws to be created to tackle the problem. You can learn more in our guide to deepfakes. Again, all on our website.
That's all from me today – I'll be back at the end of the month with another bumper edition of Safeguarding Soundbites before we switch back to our weekly episodes. If you've found this podcast useful, please do let us know and please share it with friends, family and colleagues – we believe that the best approach to safeguarding children and young people online is a whole community approach so help us get everyone involved. Keep an eye on our website and socials for our upcoming articles over the next few weeks, including our guides to friend-finding platform Yubo and a beginner's guide to esports, alongside an exam results and back-to-school specials. Take care, Stay Safe and I'll speak to you next time!
Join our Online Safeguarding Hub Newsletter Network
Members of our network receive weekly updates on the trends, risks and threats to children and young people online.
Sign Up
Pause, Think and Plan
Guidance on how to talk to the children in your care about online risks.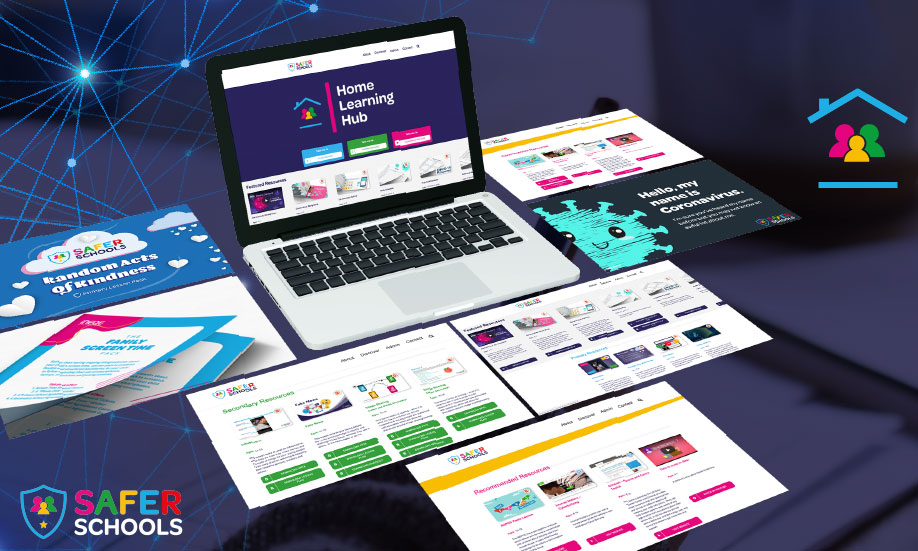 Visit the Home Learning Hub!
The Home Learning Hub is our free library of resources to support parents and carers who are taking the time to help their children be safer online.