Hello and welcome to another episode of Safeguarding Soundbites, the podcast that catches you up with the week's safeguarding news and need-to-knows.
Do you know your phishing from your smishing? Or the difference between malvertising and malspam? If not, don't worry! Those were all terms for different types of viruses and malware etc. It can be hard keeping up with all the different cyber security terminology, which is why our new cyber security buzzwords cheat sheet is so useful – find it on our website ineqe.com.
How confident are you in your school's cyber security strategy? Studies reveal that around 83% of schools in the UK have experienced a Cyber Security Incident, with 69% targeted by a phishing scam. We've created a quick and easy audit that you can take part in right now. Simply answer a few questions and count your score to get an overview of how strong your cyber security strategy is. Visit the online safety section at ineqe.com to download the audit and take part. And for anyone interested in learning more about cyber security and how to make sure you're doing all you can, register your interest today in our upcoming cyber security webinars.
Ofcom have released their report looking into a fatal attack earlier this year that was streamed live online across multiple platforms. The attack happened in Buffalo, New York in May 2022, resulting in the death of 10 individuals with three people left wounded. Ofcom's report discusses the livestreaming of the attack , the exposure of "UK users to content related to terrorism" and the responses of social media companies to the event and dissemination of the videoing of the attack.
Called, 'The Buffalo attack: Implications for online safety', the report looks into areas such as the potential harm and impact to people who view live streams like these. It also highlights the difficulties for tech companies of staying on top of deleting and restricting this type of content, especially when it's already been shared and started trending or saved and posted onto other websites.
The report found that the attacker had been exposed to and engaged with radicalised content online, once again highlighting concerns about the impact of harmful and extreme content on vulnerable young people and adults.
Ofcom is the regulator of the UK established video sharing platforms (VSP's) and the prospective UK online safety regulator.
A newly released report by a criminal justice consultancy has recommended the implementation of a five-star rating system for social media platforms. Crest Advisory believes that having a ranking system to indicate how safe a platform is for children will help better protect young people online. The report also recommended the introduction of compulsory age verification using a national system and an alert system that will notify parents and others about threats on social media.
The report, called Fixing Neverland, found the link between harmful social media content seen by children and violence has been underestimated. The researchers worked with the parents of Olly Stephens, the 13-year-old boy who was murdered last year. The perpetrators planned and organised the attack via social media. Olly's mother has called on the government to add the recommendations from the report into the Online Safety Bill.
If you'd like to learn more about the Online Safety Bill, you can find our guide about the bill on our website ineqe.com.
A seven-year public inquiry into child sexual abuse has recommended that anyone who works with children and does not report child sexual abuse should be prosecuted. The final report of the Independent Inquiry into Child Sexual Abuse states that the nature and scale of abuse in England and Wales is horrific and deeply disturbing, with the report's Chairwoman Professor Alexis Jay adding that it is an ever-growing problem exacerbated by current and future threat of the internet.
The inquiry was commissioned in the wake of the Jimmy Savile scandal and has provided a broad remit to look at historical allegations of child abuse dating back to the 50's. Approximately 7,000 victims of abuse have provided testimonies and 725 people providing evidence to the inquiry according to the BBC. Importantly the report provides 20 key recommendations that it strongly urges the government to accept "as a matter of urgency"
That is all from me this week, make sure to share this episode with your friends, family and colleagues so we can all work together to help keep the children and young people in our care safer online. You can follow our social media to keep up to date with what we're up to, just search 'Ineqe safeguarding group' on all your favourite socials. Speak to you next week and stay safe.
Join our Online Safeguarding Hub Newsletter Network
Members of our network receive weekly updates on the trends, risks and threats to children and young people online.
Sign Up
Pause, Think and Plan
Guidance on how to talk to the children in your care about online risks.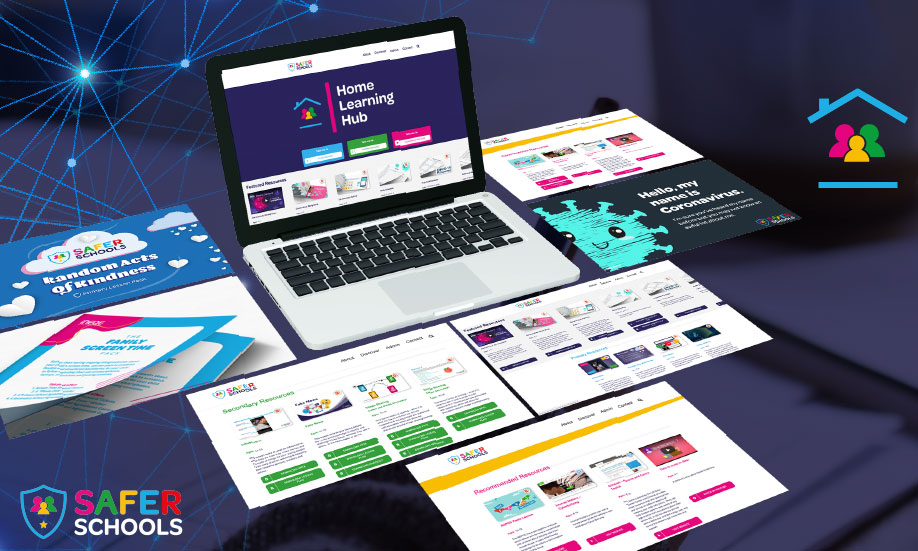 Visit the Home Learning Hub!
The Home Learning Hub is our free library of resources to support parents and carers who are taking the time to help their children be safer online.