Hello and welcome to another episode of your favourite – we hope!- online podcast…Safeguarding Soundbites! As always, we'll be giving you a round-up of this week's safeguarding news. Let's get into it.
With 'Christmas lights switch ons' and Santa popping up at shopping centres across the UK, parents are being reminded to share their Christmas family fun photos and videos safely online. While we all love seeing the joy in children's faces take over our social media feed, it's important to remember the risks that come along with uploading this type of content online.
It's sometimes referred to as sharenting and many of us might not even think twice before putting this content online believe it or not– the average parent shares almost 1,500 images of their child before their fifth birthday. However, there are risks. This week, cyber security experts at VPN Overview outlined some of the dangers, including digital kidnapping, sexual exploitation and unreliable safety settings, meaning images can be screenshotted and shared beyond your control. We recommend that if you are choosing to sharent, you always ensure your safety settings are on the strongest possible option and blur and crop photos to remove any identifying details. You can also find our guide to safer sharenting by searching our website at ineqe.com.
Meta have announced they're introducing new safety features for young people using their platforms. New users of Facebook and Instagram will have more secure settings by default upon sign up. Young people who are already on Facebook will see prompts encouraging them to review their privacy settings. The platform is also testing out ways to protect young people from adult accounts that seem suspicious, such as limiting their interactions with young people for accounts that have recently been blocked or reported by any young person. Meta have previously come under criticism for failing to protect young people, with many concerned about the addictive nature of their platforms and how they handled internal research showing the negative impact Instagram has on young people's mental health.
Did you ever use a walkie talkie when you were a kid to talk to your friends or siblings? If so, you'll remember just how fun they were! Well, the walkie talkie is making a come back – but this time it's gone digital! Social app HiPal Walkie Talkie has been hitting the top of app stores recently. The app lets users communicate with friends through their phones, even when they're not using them. However, it might not be quite as safe as the analogue version wethat you and I remember. Our online safety experts have discovered risks such as poor age verification and the invasive nature of how the app works. Our experts also took a look at Wizz, an app that matches users together using a swipe system, much like many dating apps use. Both HiPal and Wizz raise serious concerns about how friend finding apps encourage young people to connect with strangers across the digital world. This can lead to unhealthy and potentially harmful relationships where oversharing personal information can put young people at further risk. Visit our website at ineqe.com to find out what our experts had to say.
A recent report by image sharing and social media network Pinterest has shown an increase in the amount of child exploitation and self-injury content being removed. Pinterest's Transparency Report outlines all of the control removals and enforcement actions the company took in the first half of 2022. Indicating this isn't due to an uptickake in this type of content, the company says the stark increases reported are due to updates in their detection systems.
TikTok have released a new feature to their platform – and it might sound familiar! TikTok Now encourages users to share their 'real life' and upload 'in the moment' content. Users are prompted at a random time during the day and given a three-minute window in which to upload a real-time photo or 10 second video. Many have drawn parallels between TikTok Now and BeReal, the app that's exploded in popularity this year. Both platforms give users strict time limitations to upload and focus on the idea of sharing authentic moments on social media.
Although we love the concept behind being ourselves online, there are potential safeguarding risks for young people. From the pressures of FOMO to oversharing in a bid to be more real, our online safety experts took a closer look at TikTok Now and the safeguarding risks – there is more to come on this next week in our online safety section at ineqe.com.
School staff in Glasgow will be trained in eating disorder and self-harm awareness in a bid to increase the number of staff in secondary and primary schools who can help children struggling with their mental health. Secondary school teachers will also be given the opportunity to undertake a suicide prevention course next year.
In England, two new gambling addiction centres have been opened after the NHS saw a 42% annual rise in demand for these services. Health bosses at the NHS have reported that online gambling is causing a surge in suicidal young men turning to A&E. The NHS have pledged to open 15 gambling clinics by 2023 – 2024.
The persuasive design, predatory tactics and the addictive nature of gambling sites and apps have long been called into question and many are calling for a reform in gambling laws. There have also been concerns around the long-term impacts of the use of gambling mechanisms in games designed for children and young people, such as the use of loot boxes and 'play to win' challenges. We recommend making sure children and young people understand the tactics used by gambling companies plus the potential problems gambling could cause. Screen time limits and ensuring children are playing age-appropriate games can also go a long way to help.
That's everything from me for this week! Join me next time when I'll be back with next week's news and updates – in the meantime, find us on social media by searching for 'ineqe safeguarding group'. If you've found today's podcast useful, help spread the word about Safeguarding Soundbites by sharing on your own social media and with friends, family and colleagues. Stay safe and I'll speak to you next time.
Join our Online Safeguarding Hub Newsletter Network
Members of our network receive weekly updates on the trends, risks and threats to children and young people online.
Sign Up
Pause, Think and Plan
Guidance on how to talk to the children in your care about online risks.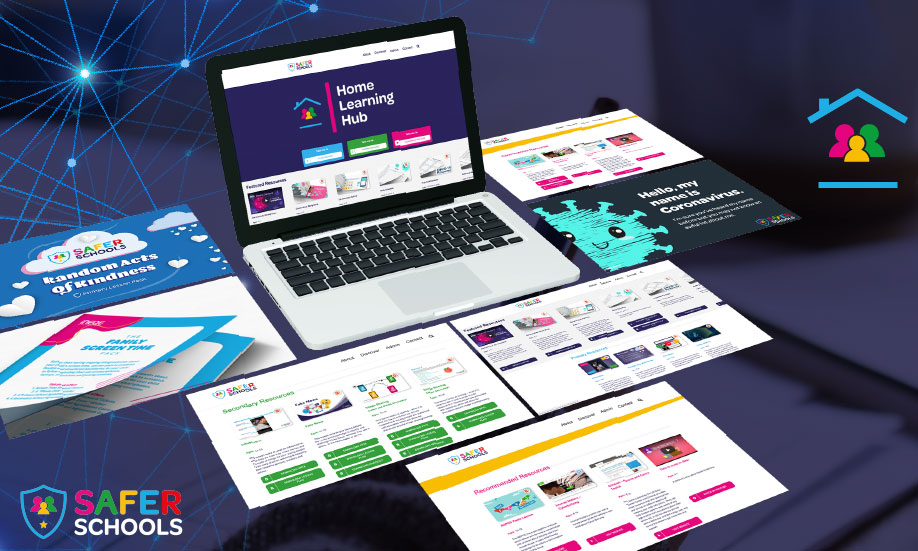 Visit the Home Learning Hub!
The Home Learning Hub is our free library of resources to support parents and carers who are taking the time to help their children be safer online.