Hello and welcome back to Safeguarding Soundbites, where we can almost hear the sleigh bells ringing! That's right, it's officially December! As we try to wrap our heads around that, let's hear what INEQE's online safeguarding experts have been talking about, plus catch up on this week's safeguarding news.
First up in digital safeguarding news, the Online Safety Bill is back in the headlines and back in Parliament. After being delayed due to the last few months' governmental turmoil, the bill is back in the House of Commons, as part of the process bills undergo to become law. However, there have been some changes to the bill that have caused mixed reactions. The 'harmful communications' offence that would have seen tech companies forced to delete content that is legal but harmful has now been removed. Many were concerned about how this clause would have affected free speech but now many campaigners are left questioning if, without it, the bill goes far enough to protect online users.
The Bill also has some additions, including protections around age verifications for children and young people. Tech companies may have to explain how they are verifying the age of their users and be required to publish risk assessments for children. The bill aims to reduce or prevent damage and harm to people of all ages when using the internet. It's intended to become law in the U.K. before next summer.
Also in the news, Meta has been fined £228 million by the Irish Data Protection Commission after the personal details of up to 553 million users appeared on a hacking forum. Meta was found to be in breach of data protection rules and of leaving users at risk of scams, phishing, spam, and a loss of control of their personal information. Meta was ordered to take actions to bring their processing into compliance. The social media platform also faces fines of just under £350 million for breaches relating to how they handled children's data. Meta are appealing against this in court.
TikTok have come under criticism for the inaccuracy of mental health advice on the platform, and how toxic diet culture is encouraged. Research from the University of Vermont found that the most popular videos on the platform glorify weight loss and that content related to food, nutrition and weight reinforces diet culture amongst teenagers and young people. Meanwhile, research from company Plushcare found that young people are utilising TikTok as a search engine, including for seeking out mental health care advice. The company also found that 84% of mental health advice on TikTok is misleading.
As more and more young people use social media as part of daily life, there has been growing concern over the links between social media, eating disorders and mental health. For example, influencers pushing diet products, the use of filters creating unrealistic body expectations and misinformation on mental health. This can all have a profoundly negative impact on young people. We encourage parents and carers to have open conversations with the young people in their lives about the potential impact social media can have on how we feel about ourselves and how to find reliable, constructive advice and support.
Research from NHS Digital has shown that one in four 17 to 19-year-olds in England are now suffering serious mental distress and around one in five children under 16 reach the threshold for 'probably' having a mental health disorder. Experts have blamed the Covid pandemic as well as issues such as the cost-of-living crisis. Many young people also said they were struggling with social media and online bullying. The report also found children and teenagers are facing mental health issues such as depression, anxiety, eating disorders, self-harming, and profound loneliness.
This week, at INEQE Safeguarding Group, we took a look into TikTok's new feature TikTok Now. It was recently released on the platform's apps across the U.K. and promotes the idea of being authentic online by prompting users to take an 'in the moment' photo or video to upload. It's been compared to the popular app BeReal, which also gives users a limited time frame to upload a photo at a random time of the day. The popularity of BeReal and the TikTok Now feature could indicate a move away from the curated, filtered side of social media we usually see and a trend towards sharing how our real lives really look. But is sharing too much of our real lives always helpful? Or could it be a hindrance to our online safety? Without much time to think, users could be uploading a photo that gives away details about their location or lifestyle that they might regret later. Our safety experts took a closer look at the realities of being real. Visit our online safety section at ineqe.com to find out more.
That's all for this week's episode of Safeguarding Soundbites. Join me next time for more news and advice. In the meantime, I'd love it if you could share our podcast with friends, family, and colleagues so we can all work together to help keep the children and young people in our lives safer online. You can also find us on your social media channels by searching for 'INEQE Safeguarding Group.' Stay safe and we'll catch up next week!
Join our Online Safeguarding Hub Newsletter Network
Members of our network receive weekly updates on the trends, risks and threats to children and young people online.
Sign Up
Pause, Think and Plan
Guidance on how to talk to the children in your care about online risks.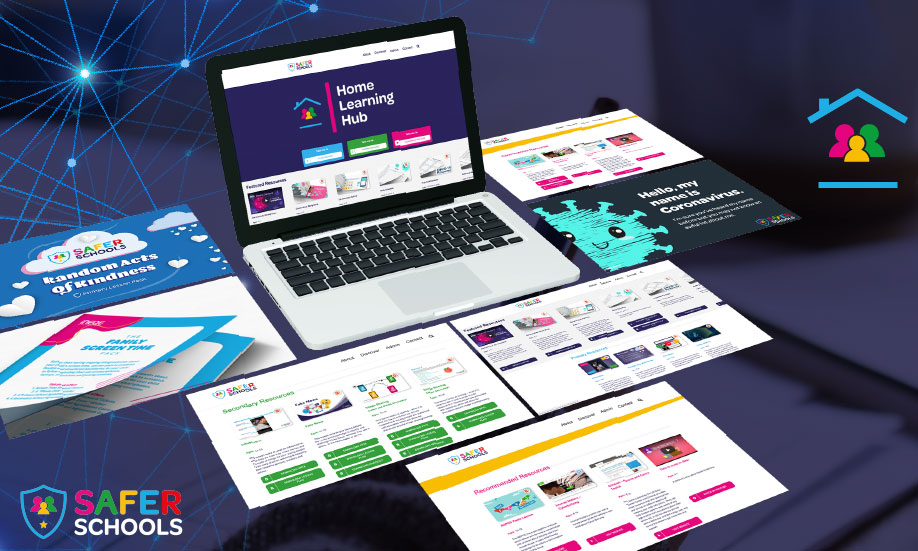 Visit the Home Learning Hub!
The Home Learning Hub is our free library of resources to support parents and carers who are taking the time to help their children be safer online.