Hello and welcome to our festive edition of Safeguarding Soundbites. I'm Colin Stitt, Head of Safer Schools at Ineqe Safeguarding Group and as always, I'll be talking about the latest in safeguarding news and in this Christmas-special episode, how you can help safeguard children and young people receiving technology presents from Santa this Christmas. Everything from phones to gaming devices, so let's get into it.
Twitter is in the news again with more moderation concerns after the social media platform dispersed their Trust and Safety Council. The council was made up of around 100 independent researchers and human rights activists and played a key role in advising Twitter on issues such as online safety, child sexual abuse materials and suicide prevention. The dissolvement came after three key members of the council resigned due to their concerns about the decline of the safety and wellbeing of Twitter users since Elon Must took over the platform.
Meanwhile, YouTube is taking action to tackle abusive comments from users. They're introducing several new steps, including a 'nudge' feature that will notify users if their comment is potentially abusive, plus a 24-hour ban if someone continues to post abusive comments. Like many online platforms, YouTube has struggled to curtail hateful and spam commenting. In the first six months of 2022, they removed over one billion spam comments. The platform has said their goal is to protect creators from users trying to negatively impact the community and to offer more transparency to users who may have had comments removed.
New research has linked too much screen time to higher odds for developing obsessive compulsive disorder. The study by UC San Francisco found that young people's risk of developing OCD increased by 13% for every hour spent playing video games, over a two-year period. The author of the research warned parents that excessive screen time can have a detrimental impact on the mental health of young people.
Research from the charity SafeLives has found that only 52% of young people feel they get a good understanding about toxic and healthy relationships from their Relationships and Sex Education classes. The UK charity that works to end domestic abuse also found that only 46% of students feel confident about knowing who to talk to if they or someone they know is experiencing abuse. Make sure you talk to the children and young people in your care about who their Trusted Adults are – search our website ineqe.com to find resources to help.
If the child or young person in your care has asked for a new digital device to appear under the tree on Christmas morning, there's more to do than just the wrapping! Giving the gift of a device is giving much more than just the phone or gaming console or smart watch itself. It's giving access to the entire online world and everything – and everyone – that's on it. So as our gift to you this Christmas, we've put together some top tips on how to safely give Santa's digital gifts.
First and foremost is communication. From the moment they unwrap their new gift, introduce the topic of staying safer online. Whether you're talking about safety settings, interacting with strangers or game suitability, open communication is going to be key. Just as you talk about school, in-real-life friendships, and hobbies, you need to establish open lines of communication about the online world. From asking how the latest game raid went, what they're up to on their favourite app and how their online friends are, you want them to know they can talk to you openly and honestly about what they experience online.
It's important that you make sure you're taking advantage of all the features and safety options available to you. Turn on safe search filters on your broadband provider and on the device, use the safety settings on apps and games, and enable parental control features. Again, discussing why you're doing this is crucial. And don't install parental controls apps or features without their knowledge – you risk losing their trust and then they may not feel comfortable coming to you about online issues in the future.
Talk to the child or young person in your care about kindness. The online world can be a harsh place – let's help the next generation change that by instilling the importance of spreading kindness online. Also make sure your child knows what to do when they see other people bullying online. Teach them how to report and block – and to come talk to you or another trusted adult when they see something that worries or upsets them online. Remember kindness costs nothing.
Screentime, well its important to agree on limits – realistic ones of course! We're all guilty of spending too much time on our phones so why not make your family's new year resolution to spend a bit more time in the offline world? We know excessive screen time can be detrimental so it's best to set up boundaries from the start and also role model that to the children and young people around us
Although it's a modern-day tradition to share photos of the family enjoying Christmas day, remember to be careful with what you share – and to teach your child to do the same! Get everyone in the habit of checking their photos before uploading: is there anything that gives away your address? Their school? Or starts to build a story about their hobbies, lifestyle, and habits? All of this information has the potential to be misused.
So when you're giving the gift of a device this Christmas, make sure you're also giving the gift of cyber resilience and safeguarding know-how.
You'll find more details on all of these tips plus more in our article and on our shareable, which you can find on our website ineqe.com – make sure you check them out before gifting any type of tech this Christmas.
That's everything from me. We want to take a minute to say thank you for all your support this year, we hope you have a great Christmas holiday and we'll be back in 2023 with more essential safeguarding news and advice. You can follow us on our social media by searching for 'INEQE Safeguarding Group'. Take care and speak to you next year!
Join our Online Safeguarding Hub Newsletter Network
Members of our network receive weekly updates on the trends, risks and threats to children and young people online.
Sign Up
Pause, Think and Plan
Guidance on how to talk to the children in your care about online risks.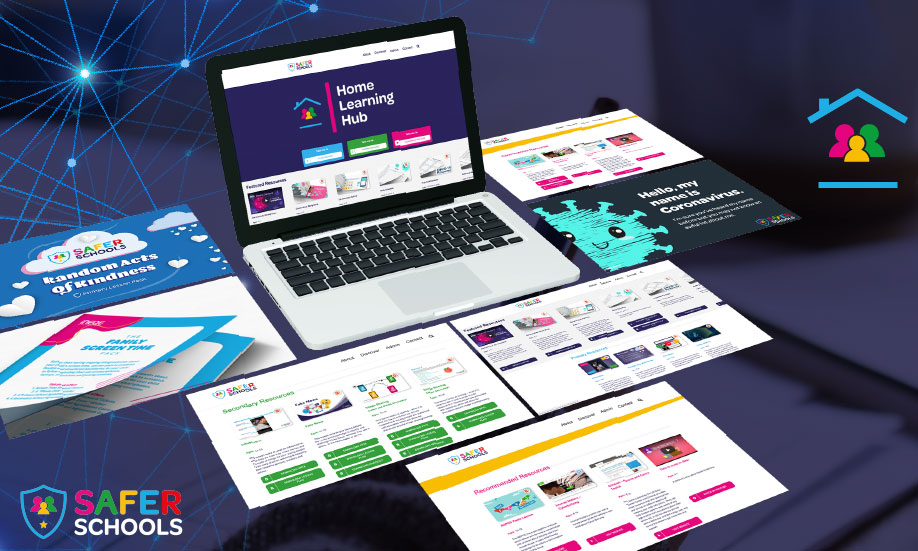 Visit the Home Learning Hub!
The Home Learning Hub is our free library of resources to support parents and carers who are taking the time to help their children be safer online.