Hello and welcome to, Safeguarding Soundbites. This is the podcast for all your digital safeguarding news needs – today, we're going to be talking about virtual reality and, as always, taking a light dive into what's been happening in the safeguarding sphere.
First up, let's take a look at the latest social media news.
TikTok have been in the headlines again with more concerns being raised regarding privacy and cybersecurity on the platform. Their CEO met with EU officials to discuss new digital regulations. The executive Commission officials brought up concerns including child safety and investigations into TikTok user data flowing to China. The Chinese ownership of TikTok has raised concerns over how the app handles data, as well as brought fears over pro-China narratives and misinformation being spread by the platform's algorithms.
Around the world, many countries are considering taking action on the app. In the US, some states are pushing for the app to be banned from state-owned devices. The French president Macron has reportedly spoken about wanting to introduce regulations for TikTok, and the Irish Data Protection Commission has set fines over the platform's handling of the personal data of children and age verification failings.
Meta have announced they're changing the way adverts for young people will appear on their platforms. From next month, advertisers targeting under-18s on Facebook and Instagram will no longer be able to select audience based on gender or in-app activity, such as who they follow or pages they like. Young users will also be given more choice about what ads they see and why. Like TikTok, Instagram also came under criticism by Ireland's Data Protection Commission for how they handled teen user accounts, with Meta walking away from the investigation with a $400 million fine.
In education news, schools across the U.K. were hit by a cyber-attack over the Christmas break, with the hackers releasing the stolen information online. At least 14 schools were targeted by the hacking group who stole confidential documents, including scans of children's passports, special educational needs information and staff pay scales and contracts. The group behind the cyber-attack, who have also targeted schools in the U.S., reportedly made demands for money before releasing the information online. Research from telecommunications company Verizon shows that education providers were the fifth most commonly targeted business sector in 2022 globally and the National Cyber Security Centre has reported a rise in the number of cyberattacks on schools in the U.K.
A government report has identified multiple safeguarding risks at 'out of school' settings in England, such as at sports clubs, youth groups and tuition centres. The report outlines findings from an 18-month study across 16 council areas and concluded that there was "significant potential for safeguarding harm", with some children even being deemed to be in immediate danger. The study found unsafe premises, staff without appropriate checks in place and incidents of grooming and child sexual abuse. In response to the findings, the Department for Education has promised to take action to improve safeguarding.
And finally, here at INEQE, we've been looking at virtual reality this week! Whilst over a fifth of adults say they would buy their child a VR headset if money was no object, two thirds of the UK lack confidence over how the Metaverse prioritises safety. And it's no wonder, given some of the press we've seen in the past reporting children being exposed to graphic sexual content, racism and other harmful materials. So, with VR's popularity continuing to soar, we took a look at some of the possible risks in the virtual reality world and put together some top tips on how to keep children and young people safer when using VR. Visit our website ineqe.com to find that.
That's all from me this week – join me next time when we'll be catching up once more on the latest news, developments and safeguarding need-to-knows. If you've liked today's episodes, please share with your friends, family and colleagues and remember you can find us on socials by searching 'Ineqe safeguarding group'. Thanks for listening, stay safe and I'll speak to you next week!
Join our Online Safeguarding Hub Newsletter Network
Members of our network receive weekly updates on the trends, risks and threats to children and young people online.
Sign Up
Pause, Think and Plan
Guidance on how to talk to the children in your care about online risks.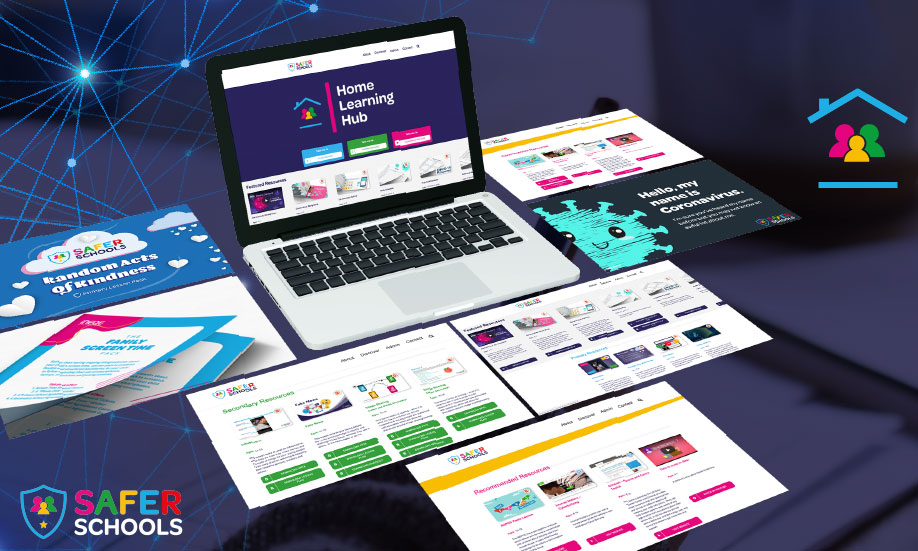 Visit the Home Learning Hub!
The Home Learning Hub is our free library of resources to support parents and carers who are taking the time to help their children be safer online.