Hello and welcome back – or, if this is your first time listening, welcome to – Safeguarding Soundbites. As always, we'll be catching up with this week's safeguarding and digital news, plus talking cyber security after a spate of hacks in schools across the U.K.
We start today's episode with some distressing news of a viral TikTok challenge gone wrong. A 12-year-old has died in Argentina, becoming one of many confirmed child deaths as a result of the challenge. This dangerous online trend involves choking oneself until passing out. Back in September last year, 14-year-old Leon Brown died at his home in Scotland after being found unresponsive in his room by his mother. In a similar case, Archie Battersbee's mother believed her 12-year-old son was also taking part in the challenge when he died, although a pre-inquest ruled otherwise.
The parents of seven children who are believed to have died as a result of the challenge have reportedly sued TikTok. The social media platform has previously spoken out about the issue, stating that the challenge predates their existence and has never been a TikTok trend. They also said they have blocked users from searching for the challenge and that any related content is immediately removed if found.
Reducing the dangers of online challenges is tricky – by mentioning the name of the challenge to a child or young person, it runs the risk of drawing their attention to it. Taking part in these sorts of challenges can also be seen as a way to increase online popularity, gain attention or be part of peer pressure or bullying. However, we can empower the children in our care with the knowledge of what the risks are, encourage them to always stop and think before taking part in any online trends and that it's okay to say no to taking part in things that seem risky or make them uncomfortable. Learn more about how you can approach the subject of online challenges, trends and hoaxes with young people by searching ineqe.com for 'responding to online challenges.'
A new amendment to the Online Safety Bill could see tech bosses behind bars if they fail to stop children seeing harmful material online. Managers of sites hosting user-generated content would face two-year sentences if the amendment goes through – a change from the current version which only sees criminally liability if managers fail to pass the relevant information to Ofcom.
The Online Safety Bill puts tech companies in the hot seat when it comes to online safeguarding, placing a duty of care for protecting their users from illegal content.
However, the Bill has continued to draw criticism for not doing enough to protect users. Julie Bentley, Chief Executive of Samaritans spoke out recently about her concerns that information surrounding the methods of suicide and self-harm wouldn't reach the threshold to be classed as illegal content for those over 18, further stating that legally becoming an adult did not mean that young people stop being vulnerable.
The Bill is on its third reading in the House of Commons this week and will then pass to the House of Lords where it may see further changes.
In England, the Teaching Online Safety in Schools Guidance has been updated. Alongside smaller changes to the text, the guidance now includes sections on online radicalisation and online media literacy strategy. Although non-statutory, the guidance informs curriculum topics such as relationships and sex education.
In last week's episode, we talked about recent cyber security attacks against schools across the U.K and America. Carried out by hacker group The Vice Society. Highly confidential documents were stolen and reportedly leaked on the dark web, including children's passport scans, special educational needs information and staff pay. In response, we've released a short video for you to watch that outlines how you can become more cyber resilient. Go a step further, and sign up to our online Cyber Security webinar, hosted by our cyber security expert, Joe. You'll learn cyber essentials for your organisation including the importance of being cyber secure, protecting your personal and workplace information and how to mitigate against potential threats and incidents. Find out more by visiting ineqe.com and reading our latest article, 'Are People the Biggest Threat to Your Cyber Security?'.
That's everything for this week's episode – remember you can follow us on social media by searching for INEQE Safeguarding Group. And don't forget to share this podcast episode so we can all work together to help keep children and young people safer online. Speak to you next time!
Join our Online Safeguarding Hub Newsletter Network
Members of our network receive weekly updates on the trends, risks and threats to children and young people online.
Sign Up
Pause, Think and Plan
Guidance on how to talk to the children in your care about online risks.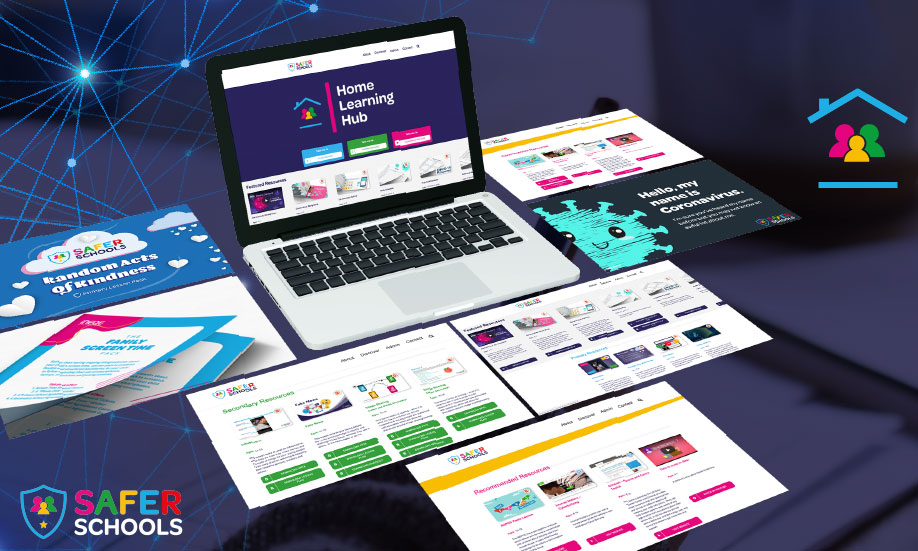 Visit the Home Learning Hub!
The Home Learning Hub is our free library of resources to support parents and carers who are taking the time to help their children be safer online.