Hello and welcome to Safeguarding Soundbites, the weekly podcast that gives you a whistle-stop tour of all the latest news and updates from the online safeguarding world. Today, we'll be looking at Meta and TikTok news, the latest Fortnite update, new research stats, and letting you know what we're up to in the run-up to Safer Internet Day.
First up, let's take a look at the latest social media news. This week, TikTok revealed that their staff can influence what videos go viral. Despite years of implying otherwise, the social media platform confirmed that, for some users, their TikTok success stories weren't all down to the content of their content. Using a practice called 'heating', staff are able to hand select videos to boost, sending them well on their way to viral victory.
Of course, this doesn't apply to all successful content on the platform with most users relying on the algorithm and good old fashioned, well, good content. So why boost some videos over others? According to Forbes, who broke the story, their sources say it's all about courting influencers and brands to entice them into partnerships. And as sponsored videos or content containing adverts must be clearly labelled as such on social media, many might be left wondering if 'heating' feels a bit like cheating.
And over at Meta, messaging encryption looks set to be on the cards for Messenger. Joining the social media giant's other platforms WhatsApp and Instagram, Meta is expanding its testing of encrypted messages on their other instant messaging service. Messenger, which was originally part of Facebook and now is a standalone service, will be rolling out the changes for millions of users in the next few months. Whilst for many, end to end encryption provides assurance that their messages are protected and secure, for others it brings concerns about how it hinders police investigations and could protect predators. Former Home Secretary Priti Patel previously spoke out against Meta's plans, saying the introduction would be a "grotesque betrayal" if child safety issues weren't considered.
For the fans of Fortnite playing on iOS, Mac or Android, their already-limited gaming experience is about to get even more minimal. Back in 2020, creators of the Battle Royale game found themselves in the middle of a real-life battle as Epic Games took on Apple and Google over the cut of sales taken from the developer. As a result, Epic Games removed the game from their stores. People who already had the game on their devices could still play – but not update – the game. However, as of next week, the in-game currency V-bucks will be pulled for those users, meaning they can't buy any in-game items. Users will also have to be over 18 years old in order to play, as Epic Games are introducing new separate accounts for children and young people on their other platforms.
London's Violence Reduction Unit has urged police to take action and stop posting images of confiscated knives. They conducted research into concerns over images posted by police that show seized knives. Some of the young people interviewed raised concerns over how fearful their families and communities might feel after seeing images of knives online. A small number of participants also said they would be likely to carry a knife after viewing images of them online.
New research shows that gamer grandparents are on the rise! The survey by Samsung polled over 65s across the U.K. and found that 85% are gaming at least once a week and that almost a fifth of grandparents are using gaming to keep in contact with their grandchildren.
As Safer Internet Day approaches on the 7th of February, we've been busy putting together our best resources to help you take part. This year's theme is 'Want to talk about it? Making space for conversations about life online'. Here at Ineqe, we love encouraging family conversation about your child or young person's online world, so visit ineqe.com to find our Safer Internet Day 2023 resources with loads of suggestions on how to do just that!
That's all the news we have time for today, if you've enjoyed today's episode, please let us know via our social media pages, which you can find by searching for 'Ineqe Safeguarding Group', We would love for you to share this episode with friends, family and colleagues. I'll be back next week with more news, advice and alerts, in the meantime, stay safe – offline and online! Thank you for tuning in to Safeguarding Soundbites.
Join our Online Safeguarding Hub Newsletter Network
Members of our network receive weekly updates on the trends, risks and threats to children and young people online.
Sign Up
Pause, Think and Plan
Guidance on how to talk to the children in your care about online risks.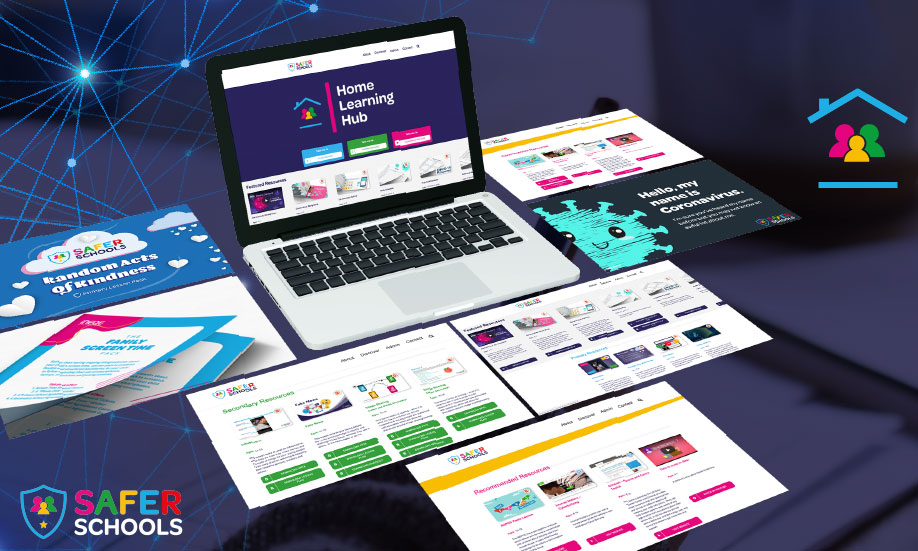 Visit the Home Learning Hub!
The Home Learning Hub is our free library of resources to support parents and carers who are taking the time to help their children be safer online.