Hello, and welcome back to Safeguarding Soundbites, the podcast that brings you all the latest in safeguarding news and updates. This week, we're talking about the latest Safeguarding Update from our online safety experts dealing with a new type of game on Roblox that is posing a risk to children and young people, Google Play Store apps aimed at children that do not comply with data protection laws, and more. Make sure you listen in!
With the majority of users on popular online gaming platform Roblox being under 16, our online safety experts are always alert for any potential risks present on the platform. This week, we released a 'Safeguarding Update' about a collection of games trending within the platform. The 'depression room' games depict themes of isolation, cutting, and suicide with some chatrooms where users engage in unmoderated discussions around hopelessness, depression, self-harm, and suicide. With 75% of children not receiving the mental health assistance they need, it is worrying that vulnerable children may be turning to these kinds of online communities for support and advice. Several of these games on Roblox already have up to 5.6 million visits and are advertised as being appropriate for 'all ages'. Despite being explicitly against the platform's Terms of Service and our online safety experts reaching out to warn Roblox to request the urgent removal of these games, the platform has failed to remove the majority of them, at this time.
Our team of online safety experts delved into the potential harmful effects of 'depression rooms' and how children and young people could be exposed to them. It is crucial for parents and caregivers to stay informed, employ safety settings, and encourage open communication with children and if necessary, seek support from a professional. For more information and practical advice, check out our Safeguarding Update on our website at ineqe.com.
In the news this week, research from Comparitech has found that as many as one in four apps aimed at children on the Google Play app store do not comply with the Information Commissioner's Age-Appropriate Design Code. The codesets out standards that online services must follow in order to comply with the UK data protection law for children. The majority of children's apps that were examined within Google Play violated these guidelines, specifically around collecting personal data from users under the age of 18. Information collected included IP addresses, full names of users, addresses, telephone numbers, and geolocations.
The NSPCC have released a report showing how child abuse image offences have soared in the UK over the past year, with over 30,000 offences reported to the police. This is a 66% increase on figures released five years ago. The NSPCC have attributed the rise to young people being groomed to share images of their own abuse with others online. They also cite tech companies failing to stop their platforms from being used to "organise, commit and share child sexual abuse." More than 4,000 of the incidents were reported to have taken place on Snapchat while 3,000 were reported on Meta's platforms, such as Facebook and Instagram.
Aiming to combat the issue of child sexual abuse imagery, a Protech app project from SafetoNet called 'Salus' has recently received £1.8 million in EU funding. The new app uses AI to identify possible child abuse material online and prevent users from viewing it. However, despite its promising potential, some concerns and questions have arisen as the app is being tested by volunteers who have acknowledged their attraction towards child sexual abuse materials and who are seeking help to refrain from viewing them. The Lucy Faithfull Foundation is one such organisation that provides a helpline to those who wish to stop downloading illegal images, including convicted paedophiles. SafeToNet has partnered with the Internet Watch Foundation, who are helping to train the AI to respond effectively to the material. Currently in the pilot stage in five countries, the app's effectiveness remains to be seen, but it has been hailed as a "positive step in the right direction" towards combating this critical issue.
Experts have revealed that texting parents may help schools tackle the current 'truancy crisis' in England. This has become a national concern, as pupils are missing lessons more now than before the pandemic. The figures indicate that 15-year-olds across England have been the most persistently absent from school, with a third of the entire age group being unaccounted for in classroom settings. Children from disadvantaged backgrounds were also noted to be particularly prone to absence. Reasons for the absences largely vary, with some parents even believing that school is no longer a necessity for their children. It is hoped that personalised text messages to parents will help improve school attendance rates, while also building deeper relationships between schools and parents.
Figures from the Youth Justice Board for England and Wales have shown that sexual offences committed by children are on the rise in the Dyfed-Powys police force area. They show that 13 sexual offences led to police sentencing or cautioning under-18s in 2022, compared to 12 in 2021. The Home Office has said it is determined to tackle sexual abuse across the board. The Home Office is rolling out non-statutory guidance on how to teach children about sexual harassment, sexual violence, and violence against women and girls to help prevent children from committing further sexual offences.
Next week is Cyber Scotland Week, which draws together events across Scotland that have been designed to make businesses, organisations, and individuals more cyber aware and cyber resilient. With events that focus on the three aims of CyberScotland Week – Protection, Innovation, and Skills and Careers – there is something for everyone at every age and stage to get involved with! You can find event details on cyberscotlandweek.com, or take a look at our resources at oursaferschools.com, which have been specially curated for this event by our online safety experts.
That's all from us this week! Join us next week to stay up to date with all the latest in safeguarding and how to keep the children and young people in your care safer online. Remember to share this episode with family, friends, and colleagues, and follow us on social media by searching 'INEQE Safeguarding Group' on Facebook, Instagram, and Twitter.
Until next time, stay safe out there!
Join our Online Safeguarding Hub Newsletter Network
Members of our network receive weekly updates on the trends, risks and threats to children and young people online.
Sign Up
Pause, Think and Plan
Guidance on how to talk to the children in your care about online risks.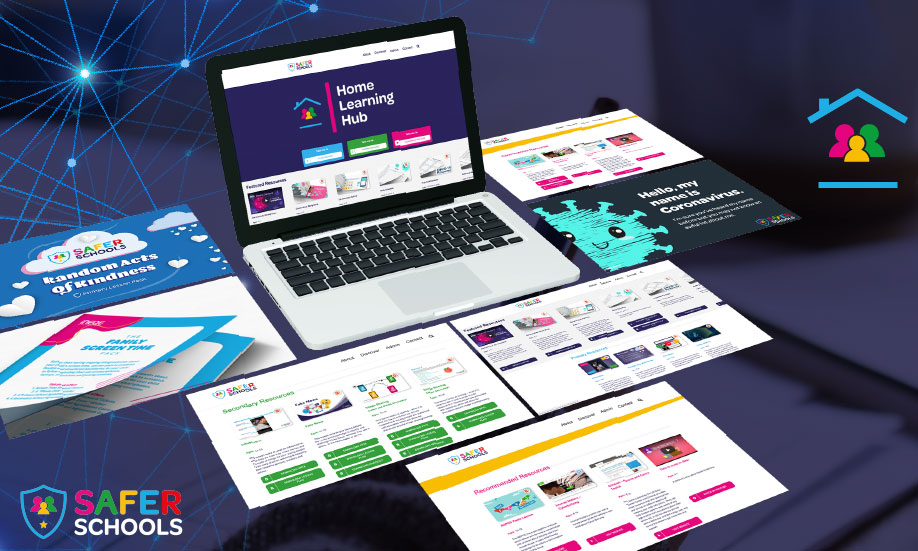 Visit the Home Learning Hub!
The Home Learning Hub is our free library of resources to support parents and carers who are taking the time to help their children be safer online.