Natalie: Hello and welcome to Safeguarding Soundbites!
Colin: We're the online safeguarding news podcast that brings you a roundup of all the week's top stories and safeguarding advice. My name's Colin.
Natalie: And I'm Natalie! This week, we're going to be giving you some news updates as always, but a small disclaimer, some of our topics today are sensitive so if you're listening to this episode in the car with a child, I'd suggest you tune in again later.
Colin: Our first story of the week has to do with smartphones, social media, and the concern that not enough research has been put into the potential impact they could have on the mental health of children and young people. Conservative MP Miriam Cates stated there is an urgent requirement to assess this impact, specifically through use of devices and social media apps. She stated that smartphones are "as addictive as cigarettes" and likened poor mental health rates to the amount of hours spent on social media.
Natalie: Some of the concerns Ms Cates shared were around the potential exposure to harmful content that children could experience, naming "violent pornography", suicide, and eating disorder content.
Colin: Now these are some of the issues that have led to the creation of the Online Safety Bill.
Natalie: That's correct, Colin. However, as the Online Safety Bill is still passing through parliament, Ms Cates argued that further measures needed to be put into place to try and protect children from harmful content, such as stronger age-verification measures. She emphasised this by saying that "prevention is better than cure" and that action without addressing the root of the problem was "a bit like having a leaky roof and calling for ever larger buckets to catch the drips. We need to fix the roof."
Natalie: Let's hope Colin that conversations like these are an indication of the commitment the government has to improving the mental health crisis happening for children and young people in the UK.
Colin: Absolutely Natalie. It's important for everyone to have conversations around the impact of online life for children and young people today. This includes in the home with parents and carers, and at schools and colleges with teachers. The digital world is here to stay, and the better we become at integrating this part of life into our offline world, the safer children and young people will be.
Natalie: Absolutely. One of the best ways you can do this at home or in school is to seek out resources that are credible and relevant to what the children and young people in your care are experiencing – and good job you, because this podcast is one of those resources!
Colin: It certainly is, Natalie.
Natalie: Now it's rare that a month goes by without news of a viral challenge causing harm to a child in the UK. Earlier in the week, there were reports of a young boy in a Scottish school who had died after engaging in a choking game that was a part of an online challenge.
Colin: This story is truly heartbreaking. While official sources have now said the boy died of natural causes and that there is no evidence he was taking part in an online challenge, it brings a renewed concern around online challenges and their potential dangers.
Natalie: The game in question is called 'Tap Out', which involves the restriction of air supply until the player almost passes out.
Colin: There is no confirmation that this game led to his death and official sources have maintained that this is not a criminal case.
Natalie: Regardless of the events that led to his death, it is still a tragedy that an entire school community will have to face.
Colin: And at this time, from everyone at INEQE Safeguarding Group and Safer Schools would like to extend our thoughts to the family and the wider school community at this tragic time.
Natalie: To help keep yourself aware of the dangers online challenges can create, head to our website and download our 'Responding to Online Challenges, Trends, and Hoaxes' shareable.
Colin: Now our next story comes from a report released this week about child sexual abuse materials, also referred to with the acronym CSAM. The Stanford Internet Observatory (SIO) investigated the scope and scale of how self-generated CSAM is spread, sold, and traded online.
Natalie: Just for any of our listeners who maybe aren't familiar with that term, could you explain what that is?
Colin: So self-generated child sexual abuse materials are videos or images that have been created by a child under the age of 18. The material depicts sexual activity, nudity or semi naked materials of them and/or another child.
Natalie: So what were some of the key findings of the report?
Colin: Well, the investigation found that there are large networks of accounts that are openly advertising self-generated CSAM on social media. Worryingly, some of these accounts are being run by imposters, scammers and third parties coercing children. However, these networks by and large are being operated by children who are producing and marketing sexual abuse content of their own accord. The material is then being sold or traded for gifts or money. The SIO reports that Instagram seems to be the most popular platform and its recommendation algorithms are the key reason why it's so effective for users to advertise on.
Natalie: Have Instagram responded to the report?
Colin: Meta, Instagram's parent company, have announced they are now setting up a task force to investigate the claims about Instagram hosting self-generated CSAM.
Natalie: Okay. And this isn't just on Instagram, to be clear?
Colin: No, it seems Twitter have failed to deal with CSAM reported on the platform, messaging app Telegram were mentioned as they implicitly allow the trading of CSAM in private channels and Discord, too.
Natalie: This is really concerning, but it sounds like something Ineqe will want to examine further. In the meantime, what can parents and carers do if they are worried about their child's images being distributed online?
Colin: Absolutely. Well, if a child tells you that they have lost control of an image or video, the first thing to do is thank them for coming to tell you, and to remain calm. It's most likely that they're going to be very worried or even upset, so its important to reassure them that there are steps you can take together. It's also important that they get the support that they need, whether it be from you, or you can encourage the child to seek support from ChildLine. Adults can speak to the NSPCC adult helpline for support for themselves too. The Internet Watch Foundation have a tool called Report Remove which helps to remove CSAM images from online platforms. Together with the child write a list of where the image has appeared and who it's been sent to, including account usernames. You can also make a report to the Child Exploitation and Online Protection Command (CEOP) and contact your local police force.
Natalie: Those steps are really helpful – thank you Colin.
In last week's episode of Safeguarding Soundbites, we talked about the pressures many pupils feel at this time of year due to exams. Unfortunately, this week we're hearing reports of how scammers are taking advantage of this by selling so-called leaked exam papers on social media.
Colin: The exam board has said it is extremely rare for genuine papers to be leaked, and the reports have included cases where someone has paid for an exam paper, then the user simply blocks them, and they never receive anything.
Natalie: This is a scam and it's taking advantage of the stress that young people are feeling at this time of year.
Colin: This is something that parents, carers and teachers should be addressing with their young people and explaining that this is happening, and that if they see an exam paper for sale on social media, it could be a scam.
In other news, there has been some updates to the Keeping Children Safe in Education guidance.
Natalie: This is the guidance that outlines what schools have to do in order to safeguard pupils?
Colin: Yes, it's the legal duties that must be followed by schools and colleges in England to safeguard and promote the welfare of all children and young people under the age of 18. 
Natalie: Right. So, what are the changes?
Colin: There were a few changes and additions, all of which take effect from September 2023. Some of the major changes included updates and clarification around responsibilities for filtering and monitoring systems on school devices and in staff training. It also included guidance on informing shortlisted candidates about online searches in the recruitment process. Other changes have been made around handling safeguarding concerns or allegations made about staff, and there is now signposting to new guidance on digital and technology standards, and keeping children safe in out-of-school settings. We've created a summary of all of the changes and updates on our website ineqe.com , safer schools and relevant safeguarding apps.
Natalie: Thanks, Colin. Before we go, let's finish the episode with our safeguarding success story of the week! BAFTA have announced the finalists for this year's Young Game Designers competition. The awards help to highlight the skills and talents of children and young people aged between 10 and 18 and help open up opportunities for future careers in game creation, from coding to design. This year's finalists include Sophie Hudson, a 13-year-old from Bath who has created a game concept called 'The Screen is Completely Black', which is designed to be easy for blind and deaf players to enjoy. The winners will be announced on the 22nd of June.
Colin: Wow! What a remarkable way to be inclusive to every type of gamer. Good luck to Sophie and all the finalists. That's it for this week! You can sign up to our safeguarding hub on our website and follow us on social media by searching for INEQE Safeguarding Group or Safer Schools.
Natalie: Until next time…
Both: Stay safe!
Join our Online Safeguarding Hub Newsletter Network
Members of our network receive weekly updates on the trends, risks and threats to children and young people online.
Sign Up
Pause, Think and Plan
Guidance on how to talk to the children in your care about online risks.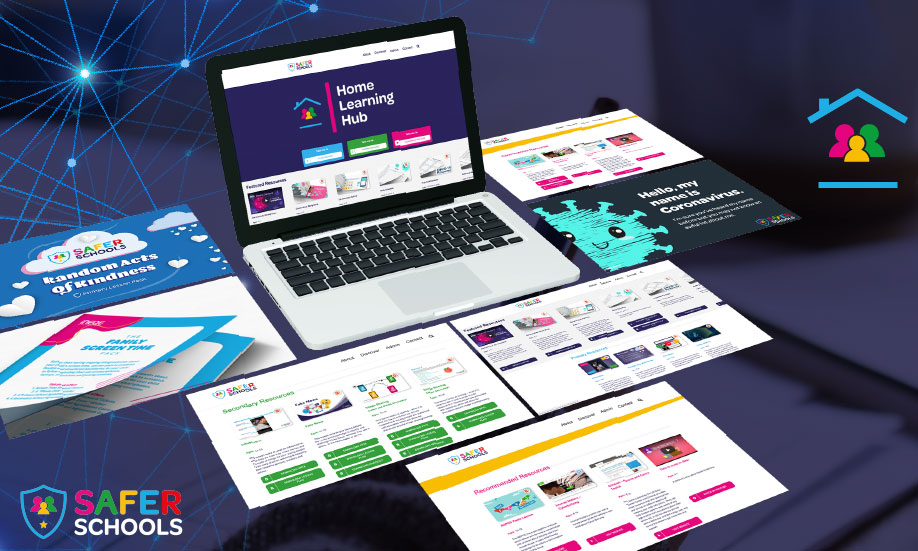 Visit the Home Learning Hub!
The Home Learning Hub is our free library of resources to support parents and carers who are taking the time to help their children be safer online.