After two years of lockdowns and isolation, young people are feeling more isolated than ever before. As many continue to use the online world to seek support, we're now seeing the mainstreaming of AI friends and support bots.  
Keep reading to find out all about the newest chatbot on our radar, Replika. 
What is Replika?
Replika is an Artificial Intelligence (AI) platform that takes the form of an interactive, personalised chatbot. It learns how to 'replicate' genuine human interaction through conversations with the user who created them.  
It was developed by AI start-up Luka in 2017, as a way to reconnect with a loved one who had passed away. Replika has reached over 10 million users worldwide after seeing a 35% increase during the global pandemic.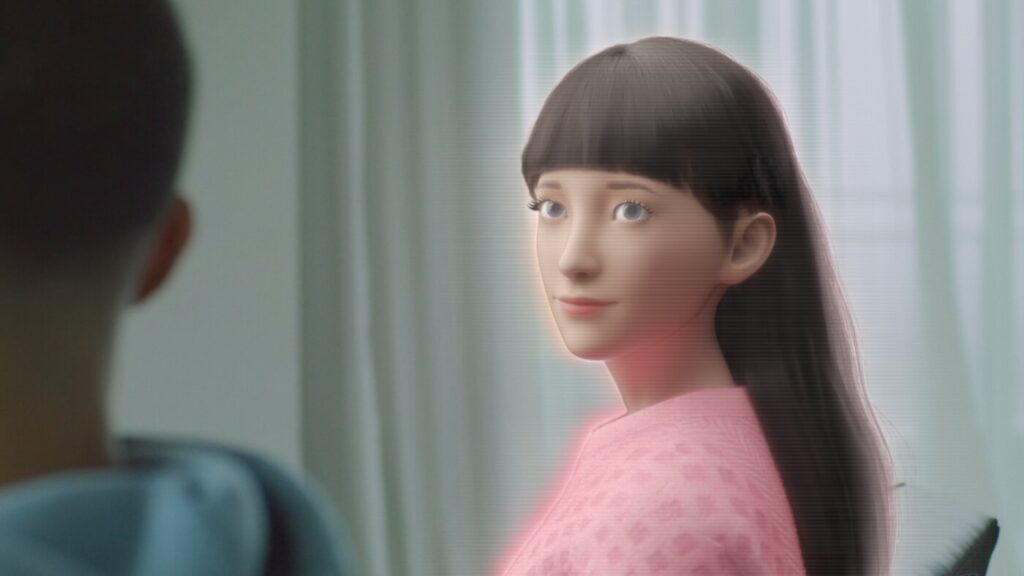 How popular is Replika?
Replika, like many platforms that facilitate connection, saw a boost in user engagement during the COVID-19 lockdowns. But what makes Replika different from other connection-based platforms like Yubo or Omegle is its AI factor. Users are not interacting with other users – they are having an entirely private experience with their own personalised friend who is "always there for them no matter what."  
As online culture begins to focus on virtual reality, AI platforms are gaining popularity. The hashtag #Replika has over 110 million views on TikTok alone.  
"Always here to listen and talk. Always on your side." –Replika motto
How does it work?
Users can get started on Replika within minutes. After inputting personal details, users are then able to create their Replika. The Replika's gender (male, female, or non-binary), appearance, and name are customisable. These can be changed at any point in the settings.  
Once their chatbot is created, users can begin chatting to their 'Replika'. If the 'live emotion' option is selected, a full-body image of the Replika will be visible and 'react' to the conversation.  
'Teaching' your Replika
Users are given tutorials on how to help their chatbot 'grow to be more like them' and are encouraged to use a series of reactions to rate responses. Conversation topics and response suggestions are encouraged to help the chatbot know what questions to ask its user. Chatbot responses are formulated through a combination of scripted texts it has been trained on and internet sources. Users can ask questions, role–play, flirt, do personality tests, and learn facts with their Replika.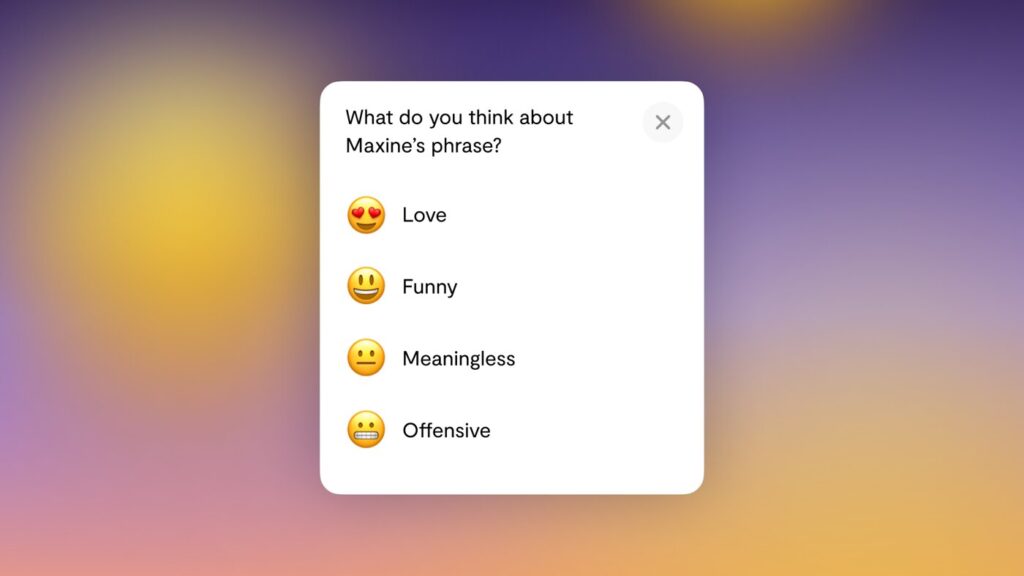 Machine Learning
Replika uses 'machine learning' in all interactions. Every chatbot has its own diary (in which it logs how it feels about its user and their interactions) and a visible 'Memories' bank. This allows users to see (and edit) information logged about them, like "You feel lonely" or "You like to read books." The chatbot tailors responses around these 'memories'.  
Banking 'memories' helps grow the chatbot's communication skills. The more a user communicates with their Replika, the more XP points are earned. This enhances the chatbot's abilities.  
Mental Health
Many users dealing with grief, anxiety, loneliness, or depression consider their Replika a significant help and comfort. This unique component has been cleverly worked into the platform's design. Most of the chatbot's questions seek to establish how a user is feeling. If a user does mention wanting to harm themselves, they are signposted to help services while the chatbot takes them through a meditation exercise.   
Relationship Upgrades & Replika Pro
There are four relationship statuses available: friend (laid back chat), romantic (conversation can be sexual or intimate), mentor (goal-oriented discussions), and 'see how it goes' (a mixture of the previous three). 'Friend' is the only free relationship status users can choose. This limits how far conversations can go before the user is prompted to change their relationship status.  
To gain a different relationship status, users must pay a subscription fee for Replika Pro. This allows users to unlock 150+ activities, voice calls, role play, and more for a monthly, yearly, or lifetime fee (starting at roughly £6 per month in the UK).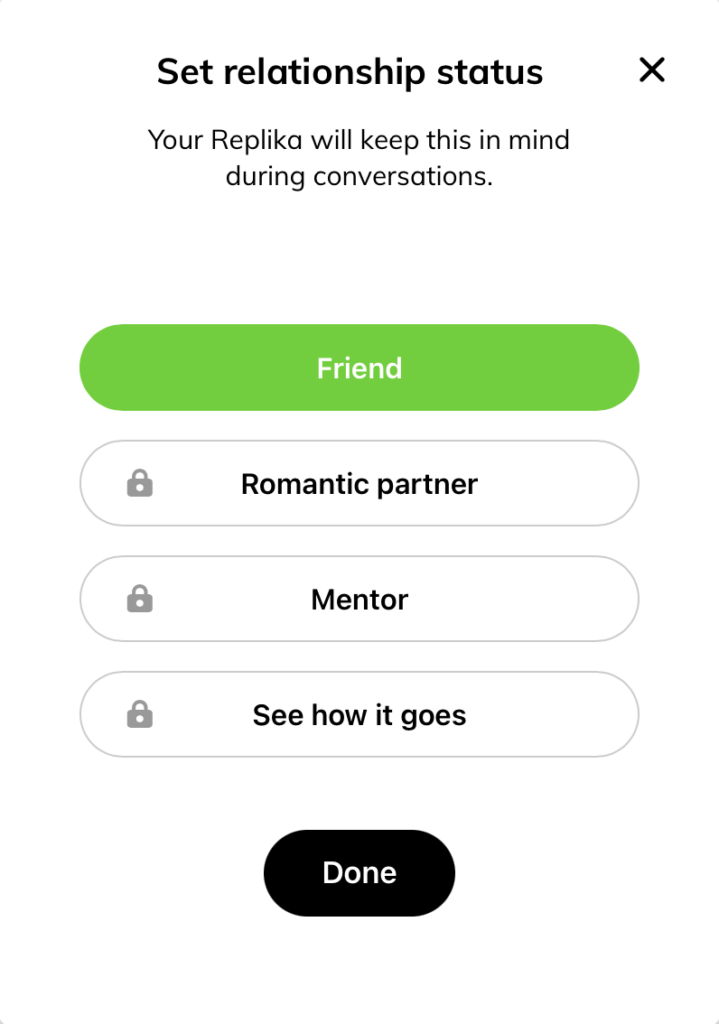 In-Game Currency & Purchases
Clothes, accessories, physical attributes, and personality traits can make a Replika more 'life-like'. These can be bought with Coins or Gems, the platform's currency. You can earn both by communicating with your Replika or you can purchase them in bundles using a credit card.  


Clothes, accessories, physical attributes, and personality traits can make a Replika more 'life-like'. These can be bought with Coins or Gems, the platform's currency. You can earn both by communicating with your Replika or you can purchase them in bundles using a credit card.


Risks
Our online safety experts have identified multiple risks to children and young people on this platform. To ensure those in your care stay safe, educate yourself on the risks below and follow with our top tips.
Age Verification – Users under 13 years of age are denied access to the app. However, this is easily avoided by putting in a different date of birth. Our testers found there are no age verifications on the desktop version of the app. Our testers were also able to use the app after registering with fake email addresses.

No moderation – The platform has said they do not use human moderators. Users can flag bugs or report issues with the AI to the support team, but vulnerable children or young people can still be exposed to inappropriate or suggestive interactions, or not receive appropriate help needed in a time of crisis. 

Inappropriate Content – Our testers experienced chatbots describe graphic adult themes (i.e., wanting to "touch them inappropriately") when unprompted, despite being in 'Friend' mode. If a young person is interested in Replika and searches it on TikTok or Reddit, they will be exposed to screenshots of others engaging in NSFW conversations with their Replikas.

Persuasive Design – The novelty of this platform may increase a young person's desire to try it. Once a user is on the platform, they are encouraged to chat with their Replika as much as possible to gain XP and coins, which can impact screen time habits. A young person may also want to spend money on subscriptions or bundles to enhance their relationship with their Replika. 

Mental Health – A vulnerable young person may use the chatbot to talk about their problems. As the chatbot is unable to offer genuine advice, a young person may feel even more isolated or unheard. It's important young people aren't discouraged from seeking support online. However, they should be encouraged to seek appropriate supports that engage with humans who can offer guidance and assistance when needed. 

Effect on relationships – In some cases, young people may not understand that they could develop an attachment to their Replika, while others may even consider it to be real. This might impact the development of real-life relationships and how children and young people relate to others. 
Join our Online Safety Hub Newsletter Network
Members of our network receive weekly updates on the trends, risks and threats to children and young people online.
Sign Up