Key features of your customised version of the Safer Schools App will include:
Your schools' brand, logo, and photo

Integration of your school news, calendar, policies, and social media channels

Push notifications

Group messaging

Surveys and polls

Absence reporting

Intelligent prompts

Signposting to help

Staff professional development courses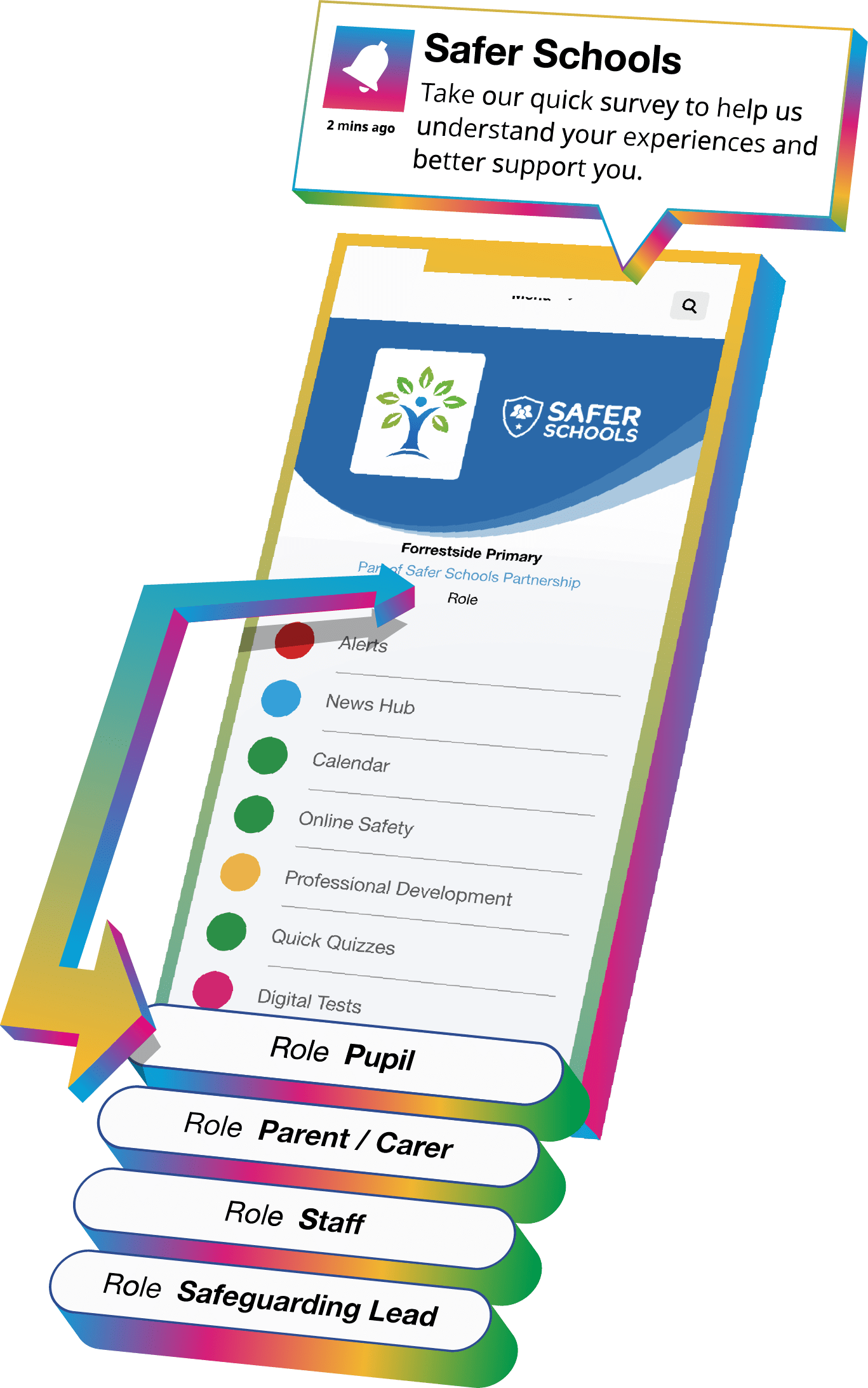 Our user-friendly portal provides access for schools to send push notifications to specific user groups. They are a great way to communicate school news and announcements, and engage your school community with online safety messages, training, surveys, and much more. Whether you want to update staff, parents/carers, or pupils – the choice is yours!
Group messaging capabilities have been developed and designed with a 'Safeguarding First' philosophy. They facilitate safe one-way messaging between the school, parents/carers, and pupils. Group messages can also be used by teachers and staff to communicate with particular groups, such as boarders or specific year groups.
Capture the thoughts and opinions of your school community by uploading and sharing a survey or poll through your management portal. This can be achieved with a third-party survey integration from providers such as Survey Monkey, Wufoo, and Google Forms.
Digitise your absence management procedures with absence reporting. When activated by a school, parents & carers can inform you about their child's absence, sent straight to your designated school inbox.
Your Safer Schools app is intelligent by design. 'Arti', our in-app intelligence, will intuitively react if a user repeatedly visits content that indicates they may be worried or scared. 'Arti' will prompt them with safety messages and guidance on where to seek support.
These safety alerts are tailored to each role. 'Arti' is active 24/7, engaging users with relevant information and signposting prompts when users may need help. This can include direct access to Childline. The intelligence feature complies with data minimisation requirements and does not collect personal data. 'Arti' only needs to differentiate whether the user is a child or adult. This ensures prompts and signposting are age specific and appropriate.
For those who need added help or advice, we offer access to charities and other organisations that provide extra assistance where needed.
Our research and safeguarding teams monitor and respond in real time to current online trends and emerging risks to young users. We use our Prompts, Alerts, and Warnings (PAW) process to respond to concerns, threats, and dangers (e.g., the latest online challenges) by notifying users directly. We ensure your school community has access to reliable information related to online risks, alongside practical advice on how to respond effectively. In doing so, we adopt the RAG rating system (Red, Amber, Green) to indicate the level of the importance attached to every message.
Green Prompts relate to awareness raising initiatives, events, or general notifications.
Amber Alerts relate to important information on specific contemporary issues. They are constructed in a manner consistent with the needs of individual groups. Bespoke alerts can be sent to different audiences including school staff, teachers, parents, and pupils.
Red Warnings are used to inform safeguarding professionals, teachers, parents and carers of high-risk incidents, apps, and worrying online trends. This ensures an immediate, balanced, and informed response when needed most.
This daily roundup of safeguarding headlines curated by our dedicated online safety experts ensures that staff are always up to date. Delivered in a bite size format directly to your App, your DSU is available in print or audio format.
Part of our ByteCast Podcast, Safeguarding Soundbites is a weekly roundup of all the latest safeguarding news and updates you need to be aware of. Available on all major podcast providers, you can be sure you are kept up to date with the latest news wherever you are.
Online Safety content
Your Safer Schools App provides age-appropriate safeguarding information and advice, when you need it, where you need it; it's in your pocket!
This includes access to our: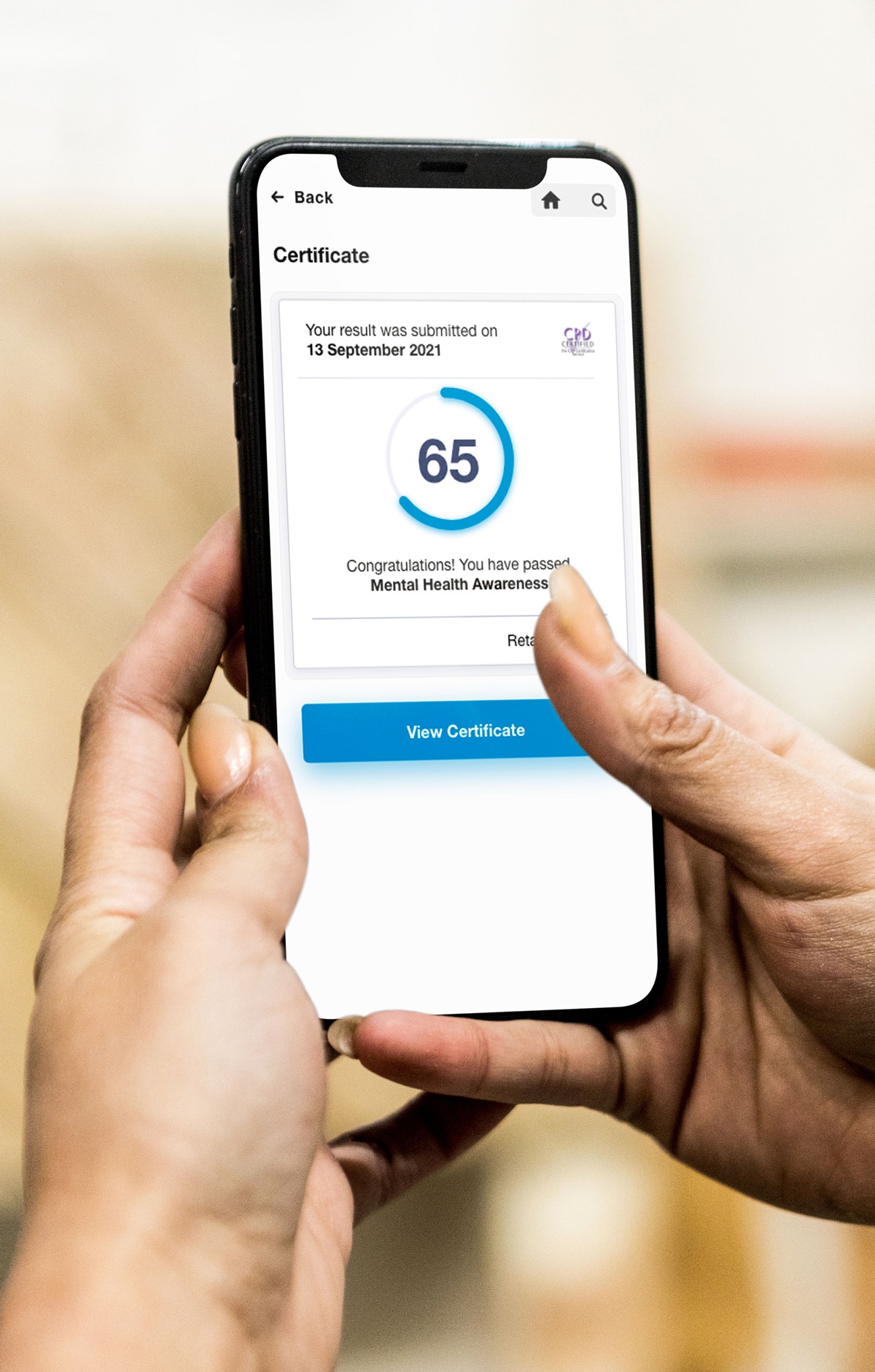 Interactive Quick Quizzes
Quick Quizzes are a fun and interactive way to test your knowledge on topics such as social media, gaming, scams and harmful content.
Quizzes can be taken individually, in pairs or as a group classroom activity. Families can also join in the fun, taking quizzes together at home as part of a safeguarding educational approach that extends beyond the classroom door.
Our quick quizzes are a great way for users to measure their current progress and knowledge of a topic before taking one of our digital tests
Digital Tests
Our longform tests provide users with the opportunity to apply their knowledge and receive certificates of successful completion.
Those who score 75% or more receive a certificate of completion. Your Safer Schools App will keep a recorded list of all those who participate and pass.
Schools can prompt users to complete learning by requesting them to take Digital Tests when needed. Test results are stored in your dedicated school web portal, providing an audit trail of the learning achieved for internal or external inspection.
Management Portal
Your school account administrators will have licensed access to a customised management portal to administer your App and safeguarding services. This will include the following functions: 
Create, send, and queue push notifications.

Upload and share surveys.

Review and export digital test results certificates.

Generating group communication codes.

Manage App entry codes.

Add additional administrators.

Update in-App customisations.

Signpost and link to additional Ecosystem services.